"Littlewoods Estate" is set to be a flourishing community with a strong sense of identity, simply a place where people love to live, a place where the importance of quality and space are present throughout the estate.
Located only a short walk to the centre of town and to the recently completed Regional Hospital, "Littlewood Estate'' offers superb sought- after residential blocks in the tightly held Bega residential market. Ideally located only a 15-minute drive to the golden beaches, lagoons, and estuaries the Sapphire Coast has to offer these fully serviced residential blocks with tree lined streets have a stunning setting with fantastic views and a northerly aspect.
The Estate offers 25 spacious sun-drenched blocks ranging in size from 900 sqm's to 2093 sqm's to make for a rare investment in today's market. If you are looking to upsize, downsize, build, or invest, be sure to secure one these prime residential blocks. Selling fast, do not delay.
Lots for sale
East Street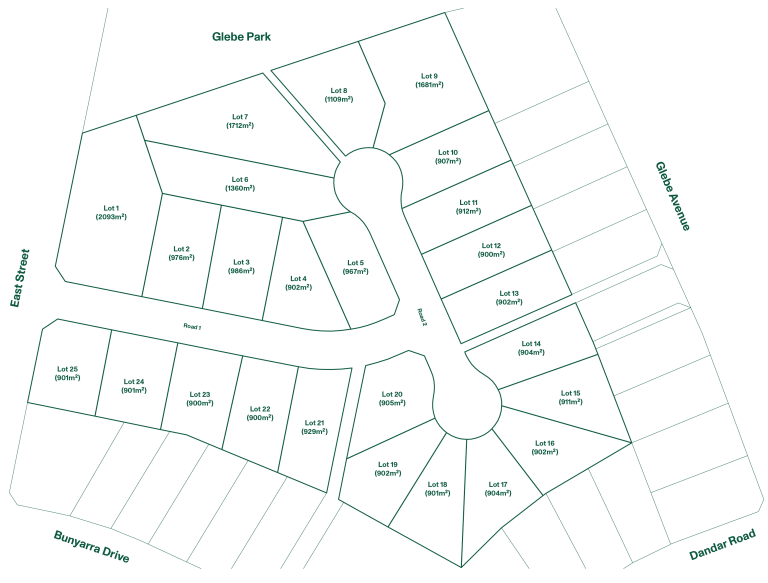 Lot 1
East Street
2093m²
250k
Lot 2
East Street
976m²
184k
Lot 3
East Street
986m²
184k
Lot 4
East Street
902m²
184k
Lot 5
East Street
967m²
184k
Lot 6
East Street
1360m²
200k
Lot 7
East Street
1712m²
200k
Lot 8
East Street
1109m²
204k
Lot 9
East Street
1681m²
204k
Lot 10
East Street
907m²
180k
Lot 11
East Street
912m²
180k
Lot 12
East Street
900m²
180k
Lot 13
East Street
902m²
180k
Lot 14
East Street
904m²
180k
Lot 15
East Street
911m²
180k
Lot 16
East Street
902m²
180k
Lot 17
East Street
904m²
185k
Lot 18
East Street
901m²
185k
Lot 19
East Street
902m²
200k
Lot 20
East Street
905m²
190k
Lot 21
East Street
929m²
189k
Lot 22
East Street
900m²
215k
Lot 23
East Street
900m²
179k
Lot 24
East Street
901m²
179k
Lot 25
East Street
901m²
179k